The US and EU have agreed to avoid an all-out trade war and work to lower tariffs, in talks that US President Donald Trump hailed as "a very strong understanding".
He and European Commission chief Jean-Claude Juncker announced a "new phase" in EU-US relations, after Wednesday's meeting at the White House.
Mr Trump's threat to impose tariffs on European cars was put aside.
The EU plans to buy more US liquefied natural gas (LNG) and soybeans.
A joint statement said the two leaders agreed to "work together toward zero tariffs, zero non-tariff barriers, and zero subsidies on non-auto industrial goods".
US import tariffs of 25% on steel and 10% on aluminium, imposed in March, will however remain in place.
A working group of senior advisers will meet to facilitate trade and lower barriers. The two sides pledged to refrain from new trade restrictions during those negotiations.
A full-blown trade war had been looming, fuelled by the tariffs introduced by Mr Trump.
EU-US relations had been further frayed by Mr Trump's tributes to Russian President Vladimir Putin and his attacks on Nato and the EU.
Mr Trump's language after meeting Mr Juncker was enthusiastic, in contrast with the angry tone he adopted previously towards the EU, calling it a "foe" on trade.
Mr Trump has come under pressure domestically because of retaliatory tariffs imposed on US goods by China, the EU, Canada and Mexico.
US chipmaker Qualcomm Inc appeared to be the latest casualty of the trade row with China. It dropped a $44bn (£33.5bn) bid to take over NXP Semiconductors, after China failed to give approval for it.
On Tuesday the Trump administration announced up to $12bn in aid for US farmers hurt by the Chinese tariffs.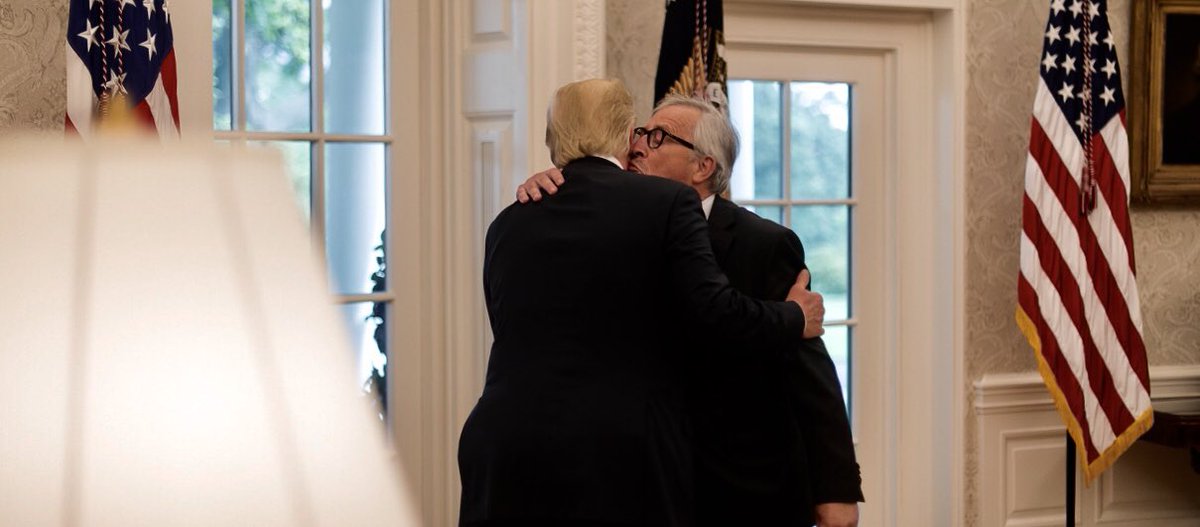 BBC News.