Aston Martin is expected to confirm plans to list on the London Stock Exchange when it announces annual results on Wednesday morning.
The British sports car maker said earlier this year it was considering making its shares available to the public or looking for a buyer.
It is understood the company will seek to sell a stake worth about £1bn, valuing it at between £4bn and £5bn.
Aston Martin sold 5,000 cars last year making its first profit since 2010.
Its main shareholders, Italian private equity fund Investindustrial and a group of Kuwaiti investors, hired an investment bank to advise on options at the start of the year.
Under Andy Palmer, who left Nissan to become chief executive in 2014, Aston Martin's fortunes have been revived with the flagship DB11 coupe proving popular with buyers.
His turnaround plan have involved broadening the model range to include its first SUV, which goes into production next year.
The new models are expected to increase output "significantly" above 5,000 cars this year, Mr Palmer said.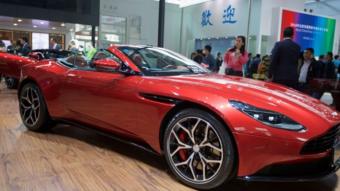 BBC News.