The suspect held over the Westminster terror crash was in the capital to get a Sudanese visa, Sky News understands.
The 29-year-old suspect was not known as "fervent worshipper" in Birmingham, Mr Mahmood added.
Police have been granted a warrant to hold Khater in custody until Monday after his
arrest on suspicion of preparing an act of terror
.
He has also been arrested on suspicion of attempted murder.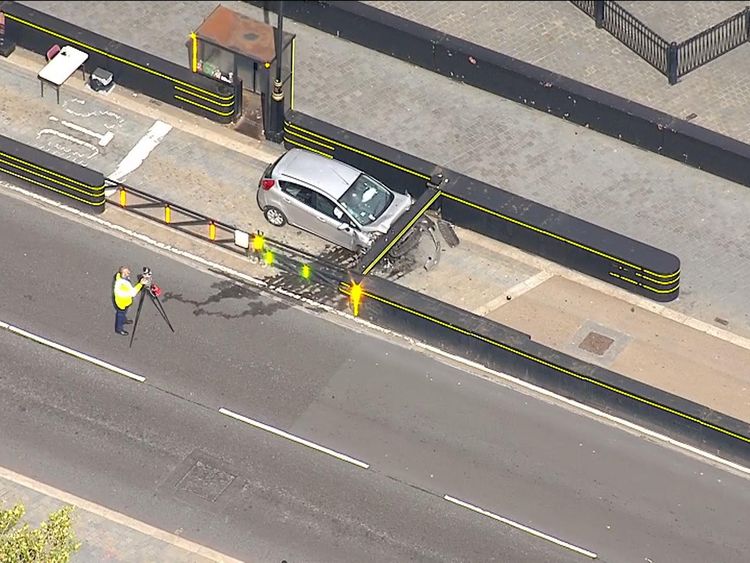 A Facebook page for a man of the same name as the suspect says he lives in Birmingham, works as a shop manager, and has studied at Sudan University of Science and Technology.
Police concluded their searches of two addresses in Birmingham and one in Nottingham on Wednesday morning.
They continue to search a third address in Birmingham, after a car smashed into barriers near Parliament on Tuesday morning.
The Met confirmed he is a UK national of Sudanese origin.
Officers revealed the driver travelled from Birmingham to London on Monday night and arrived in the capital just after midnight.
He remained in the Tottenham Court Road area, close to Oxford Street, from around 1.25am until 5.55am.
The silver Ford Fiesta was then driven to Westminster and Whitehall for about 6am and stayed in the area until the time of the attack.
It hit cyclists and pedestrians at 7.37am before crashing into security barriers.
The suspect was unknown to MI5 and "not currently cooperating", the Metropolitan Police said afterwards.
His vehicle was removed late on Tuesday night.
SKY News.