Authorities in Brazil have seized more than $16m (£12m) worth of cash and luxury watches from a delegation accompanying Teodorin Nguema Obiang, vice-president of Equatorial Guinea, local media report.
The 48-year-old, known for his lavish taste, is the son of the oil-rich Central African country's president.
Brazil limits people from entering the country with more than $2,400 in cash.
About 76% of Equatorial Guinea's 1.2m population live in poverty.
President Teodoro Obiang Nguema, who is Africa's longest-serving leader, and his son, have been accused of misusing the country's oil revenue. They both deny any wrongdoing.
Human rights groups have also accused the president of systematic repression of opponents.
The Equatorial Guinea embassy in Brazil reportedly told police that Mr Obiang was in the country for medical treatment.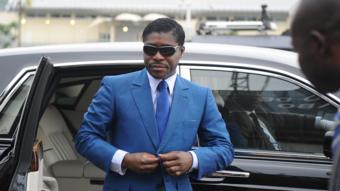 BBC News.