A Japanese freelance journalist held hostage by militants in northern Syria for three years has been freed and has confirmed he is safe and well.
In a video sent from the Turkish border, Jumpei Yasuda spoke in English and gave his name, confirming he had been held hostage for 40 months.
His wife Myu, who campaigned for his release, was appearing live on Japanese TV when the news was announced.
Mr Yasuda was also held hostage during the US-led invasion of Iraq in 2004.
He was released then after several days.
The reporter went missing in June 2015 after travelling from Turkey to Syria to report on the country's civil war.
He was reportedly held by the al-Qaeda-linked group Hayat Tahrir al-Sham, which was once known as al-Nusra Front.
"I have been held in Syria for 40 months, now in Turkey. Now I'm in safe condition. Thank you very much," Mr Yasuda said in the video from an immigration centre in the Turkish city of Antakya.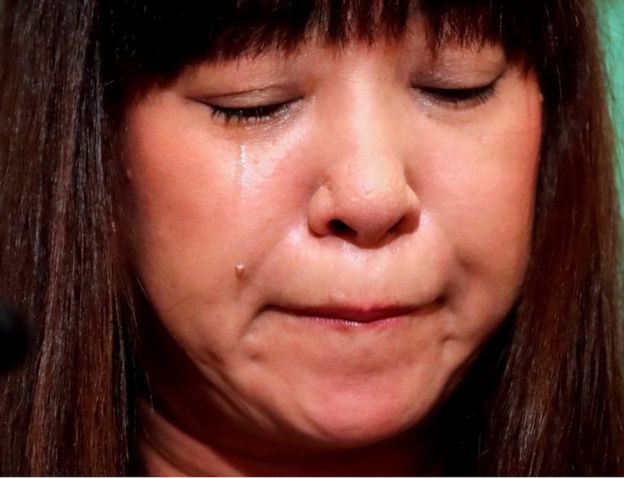 Mr Yasuda's wife Myu
Japanese diplomats had travelled there to confirm his identity.
His wife was moved to tears on hearing the news and said "thank you... thank you for praying for him and taking action".
Mr Yasuda is expected to head home to Japan soon.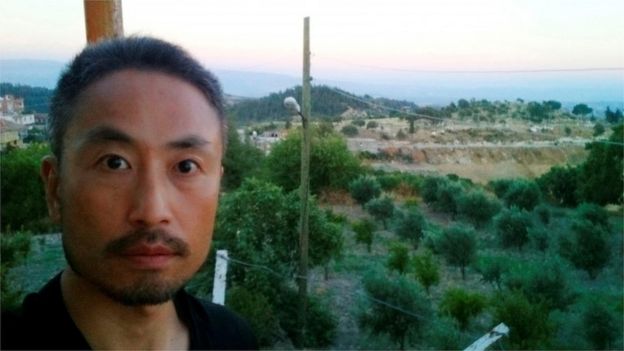 Mr Yasuda
BBC News.